I am a big fan of mystery and magic. I want our children to grow up unafraid of the unknown, even relishing it. When my daughter asked me to write a murder mystery birthday party for 12 of her closest friends, I responded too quickly, "Of course!" Here is a brave over perfect opportunity!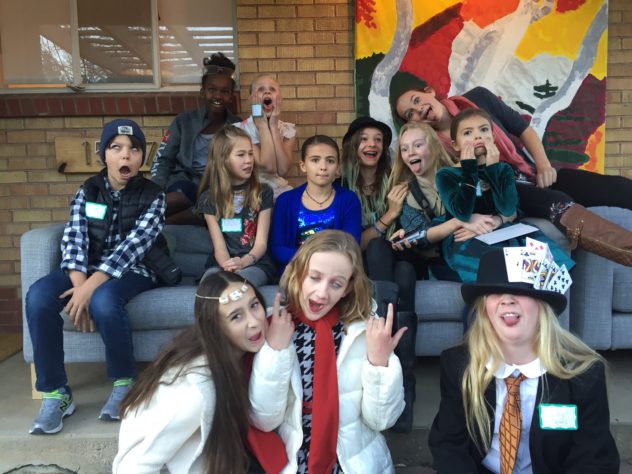 I've never written a murder mystery. I've never been to a murder mystery party. And the last time I watched "Murder She Wrote," I had feathered hair and wore blue eyeliner, which is to say, a long time ago. Then I thought, this is not brave. This is stupid. 
"How hard can it be?" Those words are my equivalent of the ill-fated phrase, "Hold my beer. Watch this." They should send off alarm bells and flashing lights in my head. But not this time. Our daughter was turning 12 on 12/12. It felt big enough to do something special. I went online to see if I could buy my way out of this promise. But she caught me.
"Mom! Don't buy a kit. You're a writer!"
"But I don't know anything about murder mysteries!" I protested.
"You've got this," she said, and patted me on the shoulder. She deliberately used the same words I say to her before every test and dance performance. And she knew that I prefer to fight boredom with "stuff to do with stuff there is" rather than to buy entertainment. She had me. I had to lead by example.
How's this for leading by example? The night before her birthday, I went to my husband's work holiday party and drank too much. We stumbled home and I couldn't imagine working on the murder mystery. So what did I do? Instead of going to bed, I stayed up and watched Guardians of the Galaxy II, a long movie, starting at 11pm. With the kids. So everyone went to bed after 1 in the morning, a brilliant set-up for hosting a complex party the next day.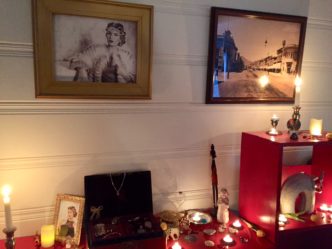 I woke up at 5 in the morning to finish the script. What came out was a mix of an escape room and a murder mystery play. The premise was this: The Duchess of Cantabarre dies a mysterious death and the guests are invited to her manor for the reading of her will. The guests were told ahead of time about their characters and encouraged to arrive in costume. They had to work together to figure out who killed the Duchess, why, and with what weapon. No one knew who the murderer was, not even the person who did it. To "unlock" the clues, they had to overcome challenges. Some challenges were easy: a hidden word search, and others were hard: a web of symbols and string to open a mysterious lock box.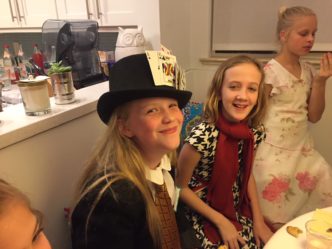 The night of the party, I could have used earplugs. There was a lot of shrieking. At one point, we brought out a rope to play a team-building challenge called "All Aboard." The girls screamed the minute we brought out the rope.
"Are you going to strangle us?" They shrieked.
"Maybe," I answered.
The kids had a great time. I was exhausted. If I were to do it again, I'd make it looser, and leave more space for the guests' creative, imaginative ideas. I was too concerned that it wouldn't work, that something would go wrong. I forgot the first principle of mystery: trust. Instead of thinking of what could go wrong, why not imagine what could go wildly right? The kids didn't solve the mystery, but they loved the challenges and the surprise ending.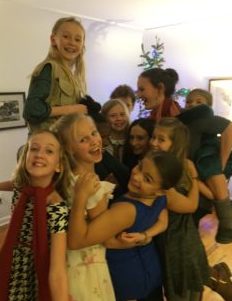 I can't help but make a connection between the mystery party and this crazy experience called life. It's easy to get scared facing big uncertainties. We worry that that there isn't a next clue, or if there is one, we'll miss it. But I'm here to tell you what I told my daughter when she was nervous during the party: There will always be a next clue, and you will always find it.
I believe that if you live with bravery and deep trust, then life becomes an adventurous game that is our privilege to play. All we can do is move bravely from clue to clue and love the surprises and mystery.
I forgot the second principle of mystery, too: slow down. It's so easy to get caught up in the busyness of making magic happen. But magic occurs when you take the time to soak it all in. After the party, Hazel and I lay on the couch eating cookies. I breathed in and out, and finally relaxed. I noticed how big she was, next to me. And I thought about how tiny she used to be. She has grown so much, and yet she still wants to lie next to me on the couch. That's worth celebrating. Only, I think I'll keep things simple next time.
**You can share the Murder Mystery by sharing this link: FREE Murder Mystery Party Script & Resources
Love,
Susie
---
It's not to late to join our Brave Over Perfect coaching group! Our next live call is on Wednesday, January 10th. That gives you plenty of time to listen to the call recording where we laid the foundation for setting goals and thinking about changes you'd like to make in 2018.
Our Brave Over Perfect coaching group is a highly effective and extremely inexpensive alternative to life coaching and, for some people, therapy. If you're interested in personal growth, this is less a lot less work than reading a book (and at only $20 for three calls, it's totally affordable).