Our son Cole is alone on a gap year in Guatemala. Recently, we visited him and hiked a volcano. The plan was to climb up dormant Volcán Acatenango, spend the night, and watch active Volcán Fuego's strombolian eruptions in the dark.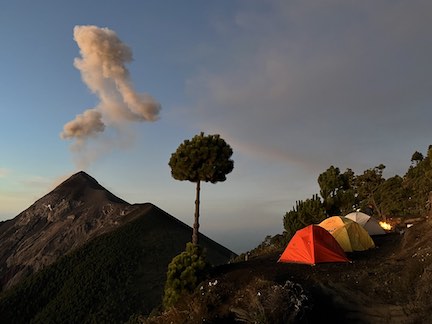 Before the trip, the anticipation of all the unknowns kept me up at night. Fear flared and ruptured my sleep. Will we make it? What if I did all that work to heal only to die on a volcano? 
I've learned that Fear never goes away, no matter how skilled I get at facing it. I am mostly healthy, feeling great, but my mind is convinced that another shoe is going to drop at any moment.
The Brave over Perfect move is to recognize the difference between Fear and Fact, and move forward anyway.
Part I 
The start is steep and in some ways, the toughest portion. This is not how most hikes are, but it is, in my experience, how most of life's challenges are. Lukas, our wonderful guide from Old Town Outfitters, reminds us to go slow and take many breaks.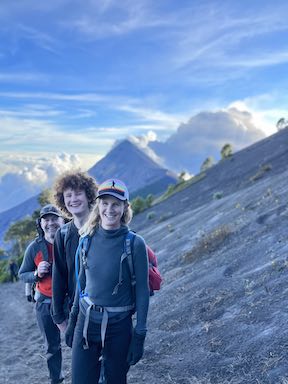 We walk uphill in deep volcanic sand. I take one step forward then slide back half a step. Cole is hiking in jeans and basketball shoes, carrying the tent and our water, so he slides even further back than I do. We laugh, but we're out of breath. It hits me that we are hiking through corn fields. This breathtakingly-steep ascent is a local farmer's daily commute. 
While in Guatemala, Cole is living with a coffee farmer, Eduardo, and his family. To reach his coffee fields, Eduardo climbs straight up for over an hour every day. I look around me in awe. 
Part II
Soon, farms give way to jungle in a cloud forest dominated by giant Canak trees. We stand inside one of the older trunks in wonder.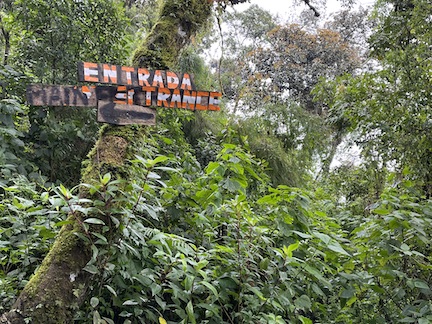 The higher we climb, the closer the clouds. It's the dry season, but it's raining. My mood falls; I'm worried that it's too cloudy to see Fuego. Kurt and Cole are not worried; they are happily talking about Formula 1 racing. 
Then the clouds lift, and there is Fuego. On cue, it erupts. All thoughts empty from my mind as rocks roar out the top and rumble down to the valley. It's more stunning than scary. At least it is while we stand over here, on a totally different mountain. I stare in awe.
click here to see short volcanoerupts movie.
At basecamp, it's time to set up our tent. Lukas asks, "Do you want to see the sunset from the summit? Another hour, maybe two, of hiking?"
We are not at the summit yet? I'll skip it; my bed is right here and it's warm. No. I have to stand back up. 
The "trail" is more like a vertical black beach. I think about the indigenous girls who live nearby, who go to the MAIA impact school that I have been connected to for some time. They have a steep climb ahead of them. The girls entering 7th grade have not been to school since 4th grade because of Covid. And the number of families in extreme poverty has doubled. Thinking of their perseverance helps me to get back on my feet. 
Part III
I remind myself to focus on five, breaking up the ascent into small, five-minute chunks. We're at about 13,000 feet. The going is slow, but I feel good. We've come so far.
At the top, the sun is a fiery red rinse as it sets over all of Guatemala and the Pacific ocean. The clouds are no longer a threat to the view; they are the view.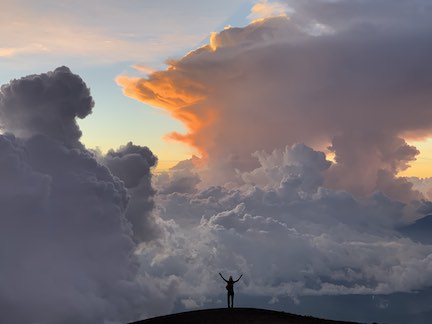 I worked through a lot of stuff on the way up this volcano. I am not my fear, my frustration, or my doubt. They are clouds, moving by. I just watch in wonder.  
We walk down by the light of our dimming headlamps and bright stars. Cole gives up on walking and sleds down on his shoes.
All night, we listen to Fuego's explosions and don't sleep much. We wake early to watch the sunrise over Volcán Agua. After a cup of coffee, I am feeling full of gratitude and wonder.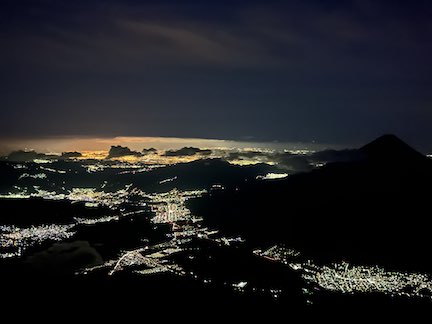 We head straight to the village where Cole's host family lives. We gather with Eduardo and Francisca, their children and grandchildren for a Thanksgiving meal of traditional Pepián. Cole translates. I am moved to tears by how this country that has been important to me is now important to him. And by how many amazing mothers Cole has now 😉
There isn't a tidy moral or metaphor at the end of this story. It's rough out there right now with a warming environment, the Omicron variant, and a widening gap between rich and poor. But this planet is so beautiful and there are incredible people fighting hard to make things better. If life is a string of challenges, I choose to face them by putting myself in the path of awe and wonder.
This holiday season, may you find a little awe and wonder too.
Love,
Susie
***