We sat side by side on our couch, enthusiastically cheering for opposite teams during the gold medal Women's hockey game. I was screaming at the Canadian women, "Set up and SCORE!" My husband, Kurt, was chanting "USA! USA!"
I am competitive. I am also Canadian, born and raised in Toronto. My husband is American, born and raised in Des Moines. Neither of us likes to lose. But for some reason, his rooting for a different team was getting under my skin. Kurt doesn't even care about hockey. He should be cheering for Canada to support me. He should always have my back.
My husband wasn't doing anything wrong. In fact, he wasn't doing anything at all. He was literally just sitting there, cheering on his country. But I took his stance personally. I felt like he was cheering against me.
Fine, I thought. If he is going to cheer for USA, then prepare to be crushed.
Many of you know the outcome of the game: Tied up in the 3rd period at 2-2, the gold medal final went into sudden death overtime. After twenty minutes of 4-on-4 play, the score was still tied at 2-2. Then everything stopped while they re-surfaced the ice before a shootout. In a shootout, one player skates with the puck straight at the goalie. "Nail-biting" isn't dramatic enough to describe the tension. It felt more like "arm-biting" or "arm-and-leg biting."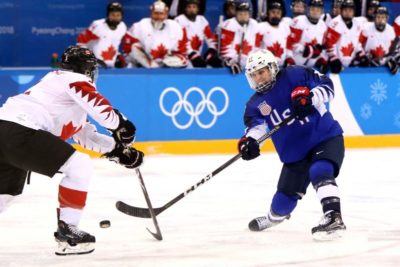 Each team gets five chances to score a goal, what officials call "a winner." This time, at the end of ten shots, both teams scored the same number of winners. The game was still tied.  
By now it was 2:30 in the morning in Toronto, and past midnight in Boulder. Kurt and I were no longer looking at each other or speaking to one another. We were leaning forward with the skaters, and diving for pucks with the goalies. Then they began a second, sudden-death shootout: five more shots on goal each. Finally, the American women scored one more goal than the Canadians. Game over. USA won the gold.  
I slammed the door. I stomped around the house. I turned to my husband and said, "You're American and all Americans are obnoxious."
"What?" He looked at me, concerned. The "polite and friendly" Canadian was yelling aggressively, and stereotyping her own husband.
In that moment, I felt angry and helpless. When I feel helpless, I attack. When I feel empowered, I connect with others. Note to self for the future: Can I create a feeling of empowerment by deliberately connecting with others, rather than letting helplessness take over my body and my voice?
Kurt was just doing what he always does: cheering for the underdog. This time, the underdog was the United States. When I make my husband stand for all men or all Americans, I objectify him. But I don't ever want to be objectified. I have to be able to empathize with him on a calm, sunny morning, and also during moments of high stress, if I expect to be treated with respect and compassion.
He wasn't cheering against me; he was just being him. I want to let go of my expectation that unified means "the same." Kurt doesn't have to be the same as me or the same as some fantasy husband to be the right guy for me. We are different. I want to let him be who he is and be fully who I am. If I begin there — we are different — there is a better chance of us finding our unique ways to battle life's struggles with unified force.
Love,
Susie
***
How much can we really expect of our spouses and still be happy?  If expectations create relationship-killers, like nagging, contempt, and criticism, how can we respond constructively when our expectations aren't met?
Our next group coaching live call is Friday, March 16. We'll be digging deeper into the misery of high expectations, and more specifically what to do when our partners don't measure up.
Join now and you can listen in to our March 2nd recording and get instant access to all of our Love & Marriage online resources.
(photo credits: Usman Malik/Flick'r & Jamie Squire/Getty Images)